Fire Hoses in Santa Clarita, CA
Protect what you love and value from fires. Raider Fire Protection bought a ton of fire hoses and can pass the savings on to you. Dealers from Santa Clarita and Humphreys, CA are welcome. Looking for a fire hose for sale? Contact us for fire hoses, fire extinguisher cabinets, commercial fire extinguishers, and more.
Specials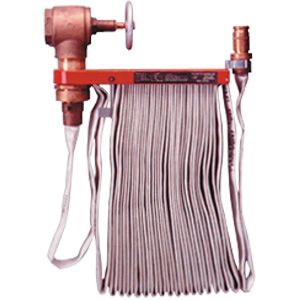 Fire Hoses
SUMMER SPECIAL
| LENGTH | QUANTITY | PRICE |
| --- | --- | --- |
| 1 1/2 X 50 FT | 1-2 | $150.00 |
| 1 1/2 X 75 FT | 1-2 | $170.00 |
| 1 1/2 X 100 FT | 1-2 | $195.00 |
PRICE INCLUDES FREE DELIVERY IN
THE LOS ANGELES AREA.CALL FOR QUANTITY DISCOUNTS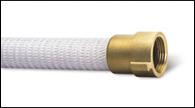 RACK AND REEL FIRE HOSE
Is fully lined, FM approved, and has an acceptance test pressure of 500 psi and a service test of 250 psi. Each section comes already folded for ease of installation on pin racks. NOTE: This inexpensive lightweight hose is designed for use as emergency fire hose only! Not intended for wash down or any other purpose.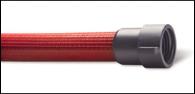 RUBBER COVERED FIRE HOSE FOR SALE
Has a burst pressure of 800 psi, an acceptance test pressure of 500 psi and a service test of 250 psi. Abrasion and heat-resistant nitrite, synthetic, 1-piece cover and liner is impervious to water, oil, gas and most chemicals. Lightweight and virtually kink- resistant for ease of handling. No drying required! Tested and coupled to NFPA 1961 standard. Available with aluminum couplings only
50X 1 1/2 Ref:428
100 X 1 1/2 Ref:548
Cast brass, 1 1/2″ STRAIGHT STREAM NOZZLE with 1/2″ discharge
This 10″ nozzle is ideal for industrial wash down applications where powerful straight streams are needed. Satin finish.
Ref: 3301


POLYCARBONATE NOZZLES
Are an economical alternative to the more expensive brass models with the same array of spray patterns. Ideal for locations where theft of brass versions is a concern.
NOTE: Intended for firefighting use only.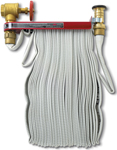 Semi-automatic PIN RACKS
With 25 movable pins feature an automatic release mechanism, keeping water out of the hose (when valve is opened) until the last fold is removed. UL listed and FM approved.
Ref:4240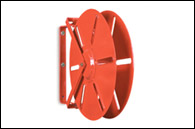 16-gauge steel
Welded steel 1″ x 3/16″ reel bracket with a 1 1/2″ x 1/4″ wall bracket, provides superior support. Wall bracket swings 180° and easily adapts to pipes (1 1/2″ to 3″), with optional pipe bracket set PBSET. Comes with reusable hook and loop back strap to prevent accidental unrolling of hose .Two sizes for different lenght's of hose.
Ref:11410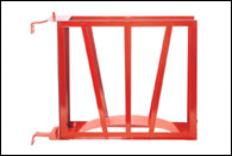 Red enameled steel HUMP RACKS
Provide easy, stress-free fire hose storage. Supports hose weight at the center, relieving strain on the folded ends and couplings, which increases hose service life. Used for 1 1/2 or 2 1/2 inch hose.
Ref:7065 and 8610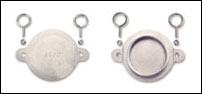 ALUMINUM BREAK CAPS
Serve the same function as the brass and plastic caps. Not threaded, easily broken with a hydrant/spanner wrench. Available in aluminum or red aluminum.
Ref:820


BRASS HEXAGON ADAPTERS
Used to change threads or to connect 2 males.
Adapters can go from pipe thread to hose thread. Or hose thread to pipe thread
They can increase or decrease the connection size.
Solves a lot of problems for little money, in stock now, We ship the same or next day.


BRASS DOUBLE SWIVEL ADAPTERS
Used to connect 2 male hose threads.(this is one that will save you from that embarrassing moment when you realize you have two male ends)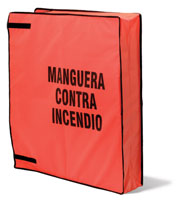 RACK COVERS
( In Spainsh and English) are made of durable vinyl to protect your equipment from dirt and other natural elements. Highly visible, yet discourages tampering. Hook and loop closures ensure proper fit and easy access.
Ref: 2701
---
Hydrostatic Fire Hose Testing
NFPA Standard #1962
Requirements for Testing Occupant-Use Hose
2.3.2. In-service hose designed for occupant use only shall be removed and service-tested as specified in Chapter 5 at intervals not exceeding 5 years after installation and every 3 years thereafter.
2.3.3. In-service hose shall be unracked, unreeled, or unrolled and physically inspected as specified in Section 2-5 at least annually. Hose shall be reracked, rereeled, or rerolled so that any folds do not occur at the same position on the hose.
2.5.1. Physical inspection shall determine that the hose, couplings, and any nozzles have not been vandalized, are free of debris, and exhibit evidence of mildew, rot, or damage by chemicals, burns, cuts, abrasion, and vermin.
4.1.2. All nozzles shall be inspected at least annually and after each use. The nozzle inspection shall include verification of the following:
Clear of obstructions in waterway
No damage to tip
Full operation of adjustments such as pattern selection, etc.
Proper operation of shut off valves if so equipped
No missing parts
Threaded gasket in good condition in accordance with 4-3.1
5-1.2.1. The service test pressure for hose manufactured in July, 1987 and after to meet the requirements of the 1987 or subsequent editions of NFPA 1961, Standard for Fire Hose, is stenciled on each length of hose and reads "Service Test to_______PSI per NFPA 1962."