Fire Extinguisher Cabinets in Santa Clarita, CA
Raider Fire Protection carries and installs a great variety of fire extinguisher cabinets in Santa Clarita and Humphreys, CA. Our staff helps you select the ideal fire extinguisher boxes for your building, to protect extinguishers from tampering or damage, while still providing easy access in the event of a fire.
A durable fire extinguisher box is necessary for nearly every type of business. They provide easy access to extinguishers only when you need them. We sell and service fire extinguisher cabinets from trusted brands, in a variety of styles.
Specials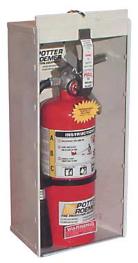 5 POUND DRY CHEMICAL RATED 2A-10BC
3 CABINETS PLUS 3 FIRE EXTINGUISHERS FOR ONLY
$340.00
FREE DELIVERY IN LOS ANGELES AREA
Galvanized Fire Extinguisher Cabinet Ideal for apartments, condos, gas stations and strip malls. Features:
Heavy-gauge, galvanized steel construction
Tempered safety glass
Electro statically applied, thermally fused dry polyester powder coating, for longer life
5-Pound Dry Chemical Rated 2A-10BC
This galvanized fire extinguisher cabinet is ideal for apartments, condos, gas stations and strip malls. Features include heavy-gauge, galvanized steel construction and tempered safety glass. They also feature an electrostatically applied, thermally fused dry polyester powder coating for longer life.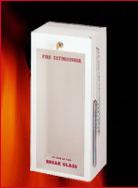 99G & 99GT Models
These cabinets hold 5lbs extinguishers and are either surface mounted (99G) for 10lbs or recessed (99GT) for 10lbs with trim. They feature a closed face that's lockable to prevent tampering. These cabinets are ideal for general use within most facilities.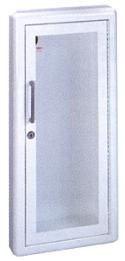 Ambassador, Academy and Cosmopolitan Series
These options are the least expensive recessed, semi-recessed and surface mounted cabinets. They come in three trim and door materials: steel, aluminum and stainless steel. They're ideal for schools, hospitals, hotels, motels, apartments, supermarkets and more. Choose from a variety of metal-glass door styles and sizes, to suit almost all portable fire extinguishers.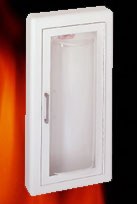 SMB Series
The new SMB-Series provides a sleek, modern design in a surface mount cabinet and has the appearance of a semi-recessed cabinet without the usual "box-look." They're ideal to add to any building, room, office, room corridor or even parking structures. You'll have no fire rated walls to worry about, and sharp corners and edges are eliminated with their rolled trim edge design.